This article details how you might create crests for both a standard and optional clock style 15½" Regina Changer.
An original crest with clock was borrowed and an original crest was supplied by myself for copying.


First, you need wood. Poplar wood like that used in the original crests was purchased to make the new crests. For an oak model changer, use quarter-sawn oak for this purpose. For best carving results use the green wood found in the center of the log that the wood is cut from.
The outer wood from the log or sapwood is very hard and difficult to carve.

The wood is then cut into sections of the proper length needed to form the curvature and it is glued together like the originals to form the shape necessary for the crests.


A pattern is first made of the front to back profile of the crests as shown at right. The glued wood is then cut on one side using a pattern from the originals.


The original crest is now laid over the cut wood to trace the front profile and cutouts.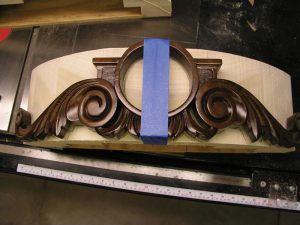 The clock style crest has a removable top piece that is cut separately.


The front profile is now cut on the band saw and the cutouts are drilled out and shaped with a chisel.


The crest outline is cut on the band saw.


Here are all of the pieces that were cut to form the crests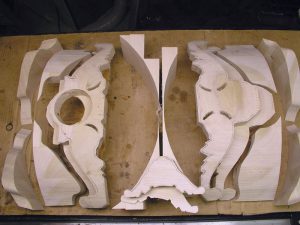 The final view shows the original crests and the cut out ones ready for the wood carver.


After wood carving the crests will be sanded and refinished to match the changer case.